The Journey to the Beyond and Back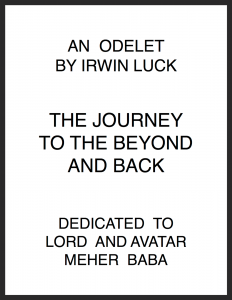 The odelet "Journey to the Beyond and Back" which originally appears in my first book of poetry is now available separately as its own work.

Meher Baba explained the Journey of the Soul from its beginning, through evolution, reincarnation, and the experiences we reach in the higher planes of consciousness. At last, the final emergence from limited existence to unlimited existence and into Infinite Knowledge, Divine powers and the Eternal happiness of The Bliss Supreme.

The journey continues for the select few who become Perfect Masters. These are the great ones who have a mission to bring others up to thier level beyond all the imaginings and illusions of the mind.

My odelet "The Journey to the Beyond and Back" takes you as an individual through this journey which we are making, with all the experiences we have had, and are having, as well as describing all we must have, so that one day we can reach the goal that Meher Baba explained is our destiny and reason for achieving consciousness.











Irwin & the Avatar Book

This is the story of what happened to me and how Meher Baba used me to change the lives of so many. 

My book tells the story of how he did this. Every word is true no matter how amazing it may sound. I have been told by those who read it, that the book is hard to put down once you start reading. How he brought people to love him who opposed him. Whether for or against him, he became the center around which peoples lives would revolve. This is the story of how he worked with family. Read his letters. Read his instructions. All he gave to bring us up to his level. Now available as an Audio Book!











IRWIN LUCK POETRY BOOKS


(Book 1 contains the odelet "The Journey to the Beyond and Back")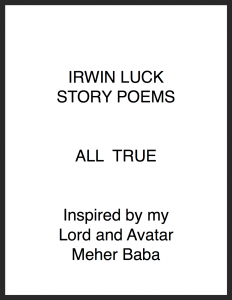 These story-poems are events that really happened. They are not fiction. How does the God-Man who is infinite in consciousness work, play and explain to a man like me, so limited as a human being.
Surely he came down to my level to bring me up.
Now I am sharing what happened with you.
I started writing poems in my letters to Meher Baba that were very personal in 1960.
When He left His body in 1969 I stopped writing. I picked up my pen again in 2010 for one year only and wrote this Trilogy of poetic-stories.
These poem books (A Trilogy) were written in 2010.
Hardcopies are $50 each ($125 for all 3)
PDF Downloads are $10 each ($25 for all 3)









The Movie: Meher Baba Avatar of the Age
The movie 'Meher Baba: Avatar of the Age'(1HR.20min.) was originally completed
in 1987. During 1988/89 the film was picked up by theaters all across the United
States as well as in Canada and the UK, and received 3 and a half out of 4 stars in
the National Guide of Ratings. Later, in 2004 the movie 

premiered

 at The Palace
of Fine Arts Theater in San Francisco for several weeks. The premier included an
art exhibit and musical performances celebrating Meher Baba's life and work.
Now, the film is available to everyone on DVD and MP4 directly through our website.
Meher Baba Live at Dante's House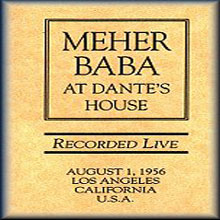 Recorded by Mike Loftus, Available on MP3 or CD. This is the first time a tape has been restored that was recorded live in Los Angeles in 1956, of Meher Baba's disciple Eruch, reading Baba's gestures live. This is the actual unedited session of when Dante Cardella invited the Avatar to his weekly meditation group. Meher Baba accepted the invitation from those seekers and revealed how they should meditate. The intimacy and immediacy of Baba's presence is felt very strongly as Eruch Jessawalla reads Meher Baba's gestures.


The Movie Soundtrack
This is the complete soundtrack
of the film on MP3 or CD.

The soundtrack is an intimate journey with Meher Baba consisting of the gems of His statements as He reveals who He is, His Mission, His Silence, His Divine Suffering and what He came to reveal to the world. The music, narration and singing are woven together to reveal how it was to be with the Avatar. The MP3 or CD can be played at home or in your car while traveling. An enchanting journey with Meher Baba.


The Silent Master Book
Compiled by Irwin Luck. Meher Baba received this book in His hands on Silence Day, July 10, 1967. He called it "Unique, it is Art, it is a Treasure." This book contains highlights of Meher Baba's Advent as the Avatar, using the gems of His own statements and pictures throughout. The book conveys powerfully and directly His presence and His purpose. Filled with Divine Love and Truth. Anyone can appreciate it. Simple and easy to look at. Filled with pictures and His sayings. It is also a great gift for friends, family and associates who have heard of Meher Baba, as well as for those you would want to introduce Meher Baba to.


Posters
3Ft x 4Ft Theater Sized Poster
   3ft x 9ft Theater sized vinyl Banner