The Journey to the Beyond and Back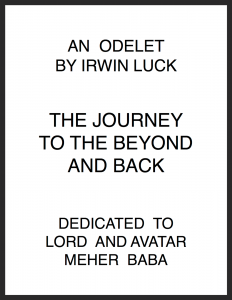 The odelet "Journey to the Beyond and Back" which originally appears in my first book of poetry is now available separately as its own work.
Meher Baba explained the Journey of the Soul from its beginning, through evolution, reincarnation, and the experiences we reach in the higher planes of consciousness. At last, the final emergence from limited existence to unlimited existence and into Infinite Knowledge, Divine powers and the Eternal happiness of The Bliss Supreme.
The journey continues for the select few who become Perfect Masters. These are the great ones who have a mission to bring others up to thier level beyond all the imaginings and illusions of the mind.
My odelet "The Journey to the Beyond and Back" takes you as an individual through this journey which we are making, with all the experiences we have had, and are having, as well as describing all we must have, so that one day we can reach the goal that Meher Baba explained is our destiny and reason for achieving consciousness.